❗️Covid-19 safety measures: During every event, it is compulsory to wear a face mask and keep a safe distance. We will also provide a disinfection. Please be responsible and respectful. Protect yourself, protect others. If you have to undergo a test, you can participate just with a negative result. If you feel sick or if you were sick recently, or if you are in quarantine, please stay at home. For updated information follow our social media (link are down below). ❗️
DURING THE WEEK
Faculty Tours: Tour of your faculty with the Buddy Coordinator, or some responsible person. They are going to take you to the International Office, where you will sign your Learning agreement and you will be enrolled in the system, then they will bring you to the Card Office where you will get your student card. They will also show you some interesting places there as a library, study room, place to eat, etc. Get more infromation at your Faculty Coordinator!
TUESDAY 8/9/20
Welcome Ceremony: A ceremony where you will get all the information you could possibly need to start your semester in Ostava. After the Ceremony there will be a luch for you in a form of a banquet (cold buffet) in the Menza (canteen) builing. We are starting at 13:00 at building C (the UFO-like shaped building), please, be on time!
Speed Meeting: The fastest way to make new friends! We are starting at 17:00 in the dorms area (the location will be specified later, follow our social media to get the info!).
WEDNESDAY 9/9/20
Sightseeing Game Poruba: Get to know the location that is going to be the closest you, your new home! But the fun way, because you are here to have enjoy the stay!  We are starting at 15:00 at dorms AB reception.
TUESDAY 10/9/20
Flea Market: Market full of used things that we gathered from the former exchange students. And rememeber, we have better prices than IKEA! See you at dorms at 15:00 (the exact location will be specified).
SUNDAY 13/9/20
BBQ with ESN: Let's finnish this week the right way, with food! Come to our Barbecue party, you can join us at 14:40 at the dorms AB reception and go with us or meet us in Myslivna Pub at 15:00.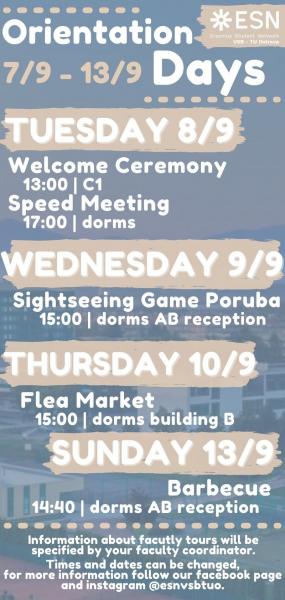 ❗️DON'T FORGET TO FOLLOW OUR SOCIAL MEDIA FOR UPDATED INFORMATION❗️